NEW: BAPSCARCARE silicone gel with SPF
S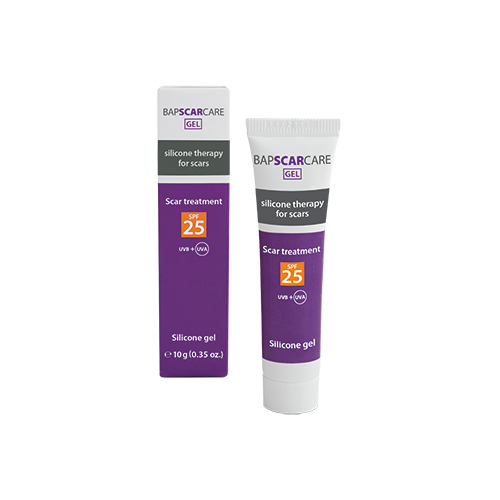 ince October 2016, we introduced a new BAPSCARCARE gel with a sun protector. Now the BAPSCARCARE gel offers the best performance against the prevention and reduction of scarring, and also provides protection against UV rays.
It's important to keep the damaged skin protected against the sun. Unfortunately, it's very difficult to keep your scar out of the sun when you have a scar on your hand, or in your face.
That is why we introduced the BAPSCARCARE gel with SPF. This scar gel:

Feels pleasant and sliky smooth

Not sticky, fast drying silicone gel,

Useful for both old en new hypertrophic and keloid scars,

UV Protection.
The gel makes scars flatter, softer and smoother, relieves itching and irritation, and reduces the redness of the scar. De silicone scar gel has a sun protection factor of 25 (SPF25), which protects the skin against the sun and UV rays.