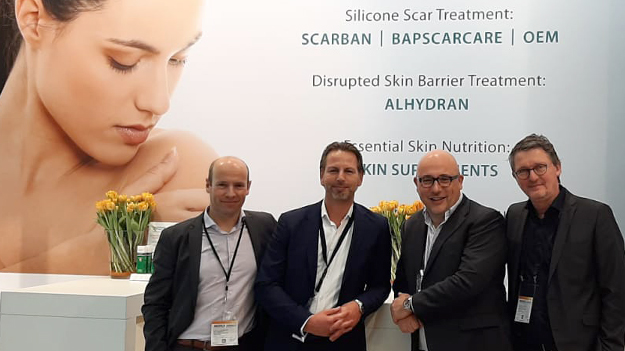 In the period 18 – 21 November 2019 the Medica (Leading Medical International Trade Fair) was held in Dusseldorf, Germany. For Bap Medical this event was a huge success!
More than 40 of our worldwide distributors visited our booth and we were approached by many new prospects in countries where we do not have representation yet.
During the Medica we launched 3 new product lines:
WOUND; a primary wound dressing for the treatment of acute and chronic wounds. The product is a unique combination of two synergistically acting oils, available in a 10 ml spray and the formula is patented.
SKIN SUPPLEMENTS; what you eat and drink play an important role in the condition of your skin. Our special skin supplements help by giving your skin a boost and by providing structural support from within.
SPECIAL CARE PRODUCTS; are specifically developed for certain skin problems. We used the powerful and scientifically proven formula of ALHYDRAN and added some active ingredients for 4 specific skin problems.
We are truly convinced that we are able to offer our partners a complete and unique portfolio for the treatment of the disrupted skin barrier, the prevention of scars and the treatment of young and old scars, food supplements for the skin and wound care.