New: The Scar Guide
After being successfully introduced in the BeNeLux, we would like to introduce our brand new marketing tool worldwide: The Scar Guide!
The Scar Guide is created in collaboration with various centers of expertise (e.g. hospitals, burn centers, scar expertise centers) and provides patients:
Evidence-based information about scar care
Practical tips and tricks to support scar management
Helps to prevent and treat scar problems
Want to see a preview? Please contact us!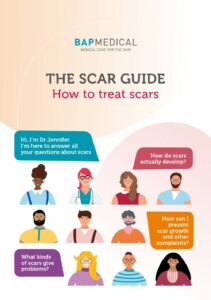 The Scar Guide
The guide is specially developed to support patients with self-knowledge and selfcare in scar management. Also, it is a perfect marketing tool to help promote your BAP Medical products. With the Scar Guide, you can differentiate your offering from competitors!
After introducing the Scar Guide to the market in The Netherlands:
+500 online requests in the first month alone
13% more visitors on our product websites
Reviewed with 4,5 stars and recommended by health care professionals
Customization
Want to customize the Scar Guide with your company logo, company details, website advertisement, and some other personalized features? Please contact your Export Manager with your requests for customizations.